Join live or receive a link to the recording and earn a CE certificate

Making Science Accessible for All Learners
Tuesday, March 28, 2023 @ 4:00 pm

-

5:00 pm

EDT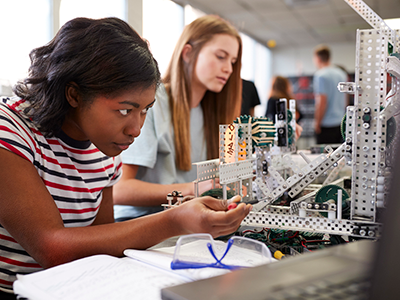 Presented by Dr. Jennifer Stimpson, Chief Programs Officer, T.D. Jakes Foundation
Sponsored by Kognity
Learn more about viewing the live presentation and the recording, earning your CE certificate, and using our new accessibility features.
Talents and participation in the future of science, technology, engineering, and mathematics (STEM) are leading stakeholders and school leaders to struggle with addressing the differences in STEM subjects.
Lack of recognition, support, and opportunities for professional growth have all been cited as reasons why some do not maintain a professional STEM career. The need for different perspectives in STEM subjects is linked to early academic experiences and how students learn what it means to be a scientist. Students are directly influenced by their learning environments and exposures, which propels interests. As a result, there are challenges when misconceptions about what it means to be scientists arise. The perception of what a scientist is (i.e., role, responsibility, duty) or who that person might be (race, gender) is contrary to how they perceive themselves.
The question is what sets and shapes the rules for appropriate behavior in STEM subjects. In the context of science, most members of the scientific community tend to be white, and their cultural ideas, perspectives, and ideologies of non-minority determine the results of practices, views, and policies. In this edWebinar, you learn how taking STEM education as a social justice issue provides an incentive for equitable education in these areas. Identity and one's own interest and ability to persist in STEM subjects can therefore be understood in how they value or feel valued by others in STEM subjects.
This recorded edWebinar is of interest to high school teachers, school and district leaders, education technology leaders, science curriculum directors, and science lead teachers.
About the Presenter
Blending science, substance, and style, Dr. Jennifer Stimpson is an educator, entrepreneur, and community leader, serving students through practice and innovative programming. She stands by the philosophy that teachers inspire students to become active lifelong learners. Dr. Stimpson, an Albert Einstein Distinguished Educator and Black female scientist, an HBCU, Big 12, and Ivy League alumna, has a statue of her likeness honoring her STEM education career.
Dr. Stimpson's global vision to advance science literacy for middle school girls mirrors her community, civic and public mission, and advocacy promoting science education equity. She works to build communities through workforce readiness and access to sustainable living environments. With sharpened wit and wisdom, Dr. Stimpson introduces girls to STEM wonders and possibilities, inspiring them to become STEMinist women. Her community service has garnered local, state, and international awards and recognition.
Learn more about viewing the live presentation and the recording, earning your CE certificate, and using our new accessibility features.
Join the STEM Learning: Full STEAM Ahead community to network with educators, participate in online discussions, receive invitations to upcoming edWebinars, and view recordings of previous programs to earn CE certificates.
---
Kognity redefines the traditional textbook and supercharges the learning process. It all began with two students who wanted to create exciting and dynamic interactive learning resources they'd always wanted to experience in classrooms. Resolving to create a modern textbook for the modern learner, the result was Kognity.
---
Related Events