Join live or receive a link to the recording and earn a CE certificate

Best Leadership Practices: Managing Devices and Technology for Distraction-Free Learning
Monday, October 16, 2023 @ 4:00 pm

-

5:00 pm

EDT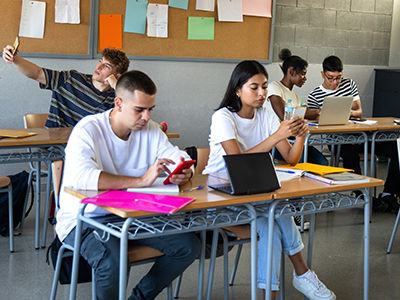 Presented by Kevin Baird, Chairman, Global Center for College and Career Readiness
Sponsored by Meteor Education
Watch the RecordingListen to the PodcastRead the Article
Learn more about viewing the live presentation and the recording, earning your CE certificate, and using our new accessibility features.
Is technology a barrier to learning in your district? We need to talk! For some, the problem of mobile devices is so severe that states and districts are banning cell phones from schools entirely. In some districts, the use of artificial intelligence tools has been banned, and websites blocked. Apple Watches are now banned in some districts, and the use of browsers on tablets and computers is "locked down" to prevent exploration outside of specific curriculum topics.
In this research-driven, provocative edLeader Panel, moderator Kevin Baird, Chairman at the Global Center for College & Career Readiness, leads viewers through best practices and engages attendees in discussion and debate.
A survey accompanying the edLeader Panel will be used as part of a national research study, published with a major university. All respondents who participate in the National Best Practices Survey – Device Management in Public K-12 Spaces will receive the research and will be invited to the research briefing when completed.
We know we have to do better—for our students. Engagement, distraction-free learning, and safe but cutting-edge technology integration are more essential now than ever before, while we balance the expectations of parents and communities. How do we provide "freedom within a framework"? We need your input, and national education leadership needs to hear your voice. Join us and help lead the conversation as new technology impacts our classrooms daily.
This recorded edLeader Panel is of interest to K-12 teachers, librarians, school and district leaders, and education technology leaders.
About the Presenter
Kevin E. Baird is a noted leader in global college and career readiness and an expert in accelerated human development. He is one of the world's first researchers to measure learner engagement through content immersion and psychological safety using real-time neuroscience technology. He is also currently part of the world's largest study of student engagement and classroom self-efficacy. Kevin has contributed to the development of the most widely used reading and language acceleration technologies, designed K-12 artificial intelligence/predictive systems, and is the author of the National Implementation Pathway for College and Career Readiness. Kevin is also an accredited learning environment planner (ALEP).
Learn more about viewing the live presentation and the recording, earning your CE certificate, and using our new accessibility features.
Join the Leadership and Innovation community to network with educators, participate in online discussions, receive invitations to upcoming edWebinars, and view recordings of previous programs to earn CE certificates.
---
We empower teachers and education leaders in creating ProSocial Learning Experiences so their students emerge inspired, compassionate, and future ready.
---
Related Events