Join live or receive a link to the recording and earn a CE certificate

AI: Embracing the Opportunity
Thursday, September 28, 2023 @ 12:00 pm

-

1:00 pm

EDT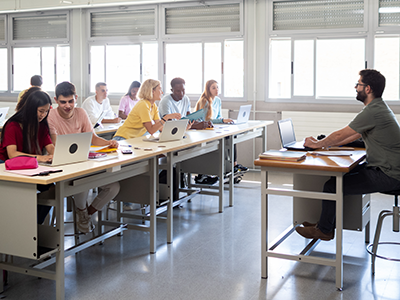 Presented by Dr. Matthew Murphy, Retired Superintendent, Ramsey School District (NJ); Dr. Chandra Orrill, Executive Director, Rethink Learning Labs; and Dr. Erik Gundersen, Superintendent, Suffern Central School District (NY)
Moderated by Larry Cocco, Senior Professional Learning Consultant, edWeb.net
Sponsored by Eduscape
Watch the RecordingListen to the PodcastRead the Article
Get a CE Certificate for this edWebinar Learn more
View an engaging and informative discussion on the impact of AI in our classrooms. Watch this edLeader Panel with experienced district leaders and a professor who has conducted NSF-funded research on AI in education. The panelists share their experience and insight into:
Rethinking curriculum instruction and assessment
Empowering and supporting teachers with useful AI strategies
Guiding leaders and boards of education in creating policies and procedures
AI will have a transformative impact on student engagement. Join us to discover how to properly guide your teachers and school and district stakeholders.
This recorded edLeader Panel is of interest to K-12 school, district, and education technology leaders.
Matthew J. Murphy, Ed.D. has been Superintendent of the Ramsey Public Schools since 2012. Before that, he served as the Chief School Administrator in the River Vale Public Schools. Prior to becoming a superintendent, he served as the Assistant Superintendent for Curriculum and Instruction, Director of Elementary Education, and Principal in the Westwood Regional School District. He began his career in Wyckoff, New Jersey as a teacher, a building-based technology coordinator, and a vice principal. Dr. Murphy is also an adjunct professor at Ramapo College where he teaches in the Educational Leadership program which emphasizes the role a leader has in curricula and supervision. Dr. Murphy earned his doctorate and professional diploma from Fordham University. He earned a master's of science/technology in education from Long Island University and a bachelor's degree in elementary education from the University of Rhode Island.
Chandra Orrill, Ph.D. is an educational researcher with expertise in mathematics education and instructional technology. Before joining Rethink Learning Labs, Dr. Orrill was a Professor in STEM Education at UMass Dartmouth where she led the Kaput Center for Research and Innovation in STEM Education for several years. Dr. Orrill is passionate about working with teachers to create inquiry-oriented, technology-based, and discussion-oriented learning spaces for mathematics and computational thinking. Dr. Orrill has served as principal investigator or co-principal investigator on over $13 million in grants over the past 20 years. She is published in mathematics education and learning sciences journals and is active in professional organizations in math education and the learning sciences.
P. Erik Gundersen, Ed.D. is the Superintendent of Schools for Suffern Central School District in New York State. Dr. Gundersen began his career as a physics teacher in the Pascack Valley Regional High School District where he became Director of Curriculum and Instruction before rising to be Superintendent for 10 years before joining Suffern. He is a gifted educational leader and a member of the League of Innovative Schools.
Larry Cocco is the Senior Professional Learning Consultant for edWeb.net. Larry is a digital learning expert whose goal is to actively promote and facilitate the transformation of educational practices through the design and implementation of 21st-century teaching strategies, professional learning, and learning environments. His previous positions include Senior Program Manager, State Education Data Systems at Public Consulting Group; Senior Program Consultant for Sustainable Jersey Digital Schools; and Director of Educational Technology for the New Jersey Department of Education. He served on the Board of Directors for the State Educational Technology Directors Association (SETDA) and was recognized in 2014 as their State Leader of the Year. In 2021, Larry received the ClassLink Visionary Technology Leader Award. His additional experience includes Associate Vice President for Government Relations at NJEdge.net, Principal K-12 Technology Consultant for Office Depot's Education Division, and Media Integration Project Director at Jersey City Public Schools. He serves on the Digital Equity Plan Working Group for the New Jersey Office of Broadband Connectivity, and annually as a judge for the Milken-Penn GSE Education Business Plan Competition. Larry has an M.A. in educational communication and technology from NYU.
Join the Best Practices for Professional Learning community to network with educators, participate in online discussions, receive invitations to upcoming edWebinars, and view recordings of previous programs to earn CE certificates.
---
Eduscape is a social innovation company dedicated to developing and implementing solutions to challenging and systemic issues that elevate the educational experience for all learners. Our team of experienced educators believes that when the teacher becomes an active participant in the learning process, innovation can happen in the classroom. Eduscape's diverse portfolio of services includes professional learning solutions and curriculum development, with a focus on topics including social-emotional wellbeing, coding, and instruction, ESL, culturally responsive teaching and school leadership. We also offer workshops on Google Workspace for Education and Microsoft 365. Eduscape offers professional learning solutions, either virtual, onsite and/or online.
---
Related Events