Join live or receive a link to the recording and earn a CE certificate

Use the Lexile Framework to Power a District-Level Approach to Intervention
Monday, February 28, 2022 @ 3:00 pm

-

4:00 pm

EST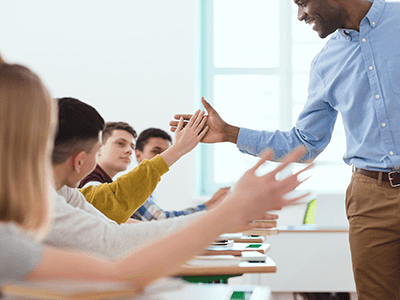 Presented by Star Connor, Region Superintendent of Transformation Schools, Hillsborough County Public Schools (FL)
Sponsored by Achieve3000
Watch the Recording Listen to the PodcastRead the Article
Learn more about viewing the live presentation and the recording, earning your CE certificate, and using our new accessibility features.
Watch Star Connor, Region Superintendent of Transformation Schools in Hillsborough County Public Schools (FL), in this engaging edLeader Panel about how she has helped more than 60% of the lowest-performing schools in her district move up at least one letter grade on Florida's school rating scale over the course of a single school year.
With 17 years of experience as an educator, principal, and leader, Star has a powerful understanding of how to engage all members of the school community in helping students to succeed. Viewers leave with an understanding of how the Lexile® Framework for Reading can inform a comprehensive and effective strategy for setting relevant goals, monitoring progress, and celebrating student success.
This recorded edLeader Panel is of interest to PreK-12 teachers, librarians, school and district leaders, and education technology leaders.
About the Presenter
Star Connor has 17 years of educational experience with a successful track record for improving schools with various complexities. Star began her career as an elementary teacher and most recently served as an elementary principal in the Duval County Public School System. During her first principal assignment at Normandy Village Elementary School, she led the effort to improve the school grade and exit turnaround status. Prior to her leadership, the school had persistently remained a D-rated school for five consecutive years. Star was given the opportunity to lead at another historically low-performing school, Richard Lewis Brown Elementary, where the school's leadership, faculty, staff, and community worked diligently to improve the school grade from a D to C in one year. During her time there, she was the recipient of the Laurel Kaden Anderson Award for her commitment and promotion of excellent school counseling programs and earned her Gifted Endorsement. Star was then asked to lead another challenged school, Bayview Elementary, that resulted in the school gaining 50 points to earn a school grade of a B.
Her last principalship was at Joseph Finegan Elementary in Duval County where 90% of the enrollment were students of military families. Star is currently the region superintendent of transformation schools in Hillsborough County Public Schools. 72% of her 14 transformation schools made significant gains on FSA during the 2020-2021 school year. Four of her schools improved by two letters grades (two Ds to Bs and two Fs to Cs), six schools improved by one letter grade (D to C) and four schools remained the same grade. She is dedicated to school improvement and believes that all students can achieve!
Learn more about viewing the live presentation and the recording, earning your CE certificate, and using our new accessibility features.
Join the Differentiating Instruction with Educational Technology community to network with educators, participate in online discussions, receive invitations to upcoming edWebinars, and view recordings of previous programs to earn CE certificates.
---
Achieve3000 partners with educators to deliver a comprehensive suite of digital solutions that significantly drive literacy and math acceleration and deepen learning across the content areas. Using personalized and differentiated solutions, Achieve3000 provides equity for remote and on-site instruction, enabling teachers to help all students achieve accelerated growth. For more than four million students in grades PreK-12, Achieve3000 improves high-stakes test performance and drives college and career readiness.
---
Related Events