Join live or receive a link to the recording and earn a CE certificate

Promoting Social-Emotional Learning in Digital Life
Thursday, August 19, 2021 @ 3:00 pm

-

4:00 pm

EDT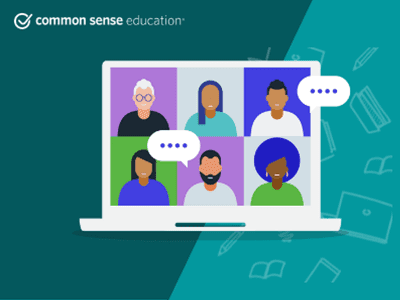 Presented by Barbara Huth, Education Content & Professional Development Manager, Common Sense Education; and Daniel Vargas Campos, Education Content Specialist, Common Sense Education
Moderated by Jennifer Ehehalt, Sr. Education Manager, Common Sense Education
Sponsored by Common Sense Education
Closed captioning will be added to the recording within 2 weeks of the live presentation. Get a CE Certificate for this edWebinar Learn more.
Technology is changing the social and emotional landscape that students navigate every day, from how they express themselves to how they communicate with friends and family. How can we support students to promote their own well-being and to be a positive influence in their digital lives?
Common Sense Education has created a new Social-Emotional Learning Resource Center full of free resources for promoting SEL in the digital lives of students. Join us in this edWebinar as we explore:
What is SEL?
How is SEL related to digital citizenship?
What are the unique SEL challenges that students encounter in their digital lives?
This edWebinar will be of interest to teachers, librarians, and school and district leaders of the elementary through high school levels.
About the Presenters
Barbara Huth is the education content & professional development manager for Common Sense Education. She plans and develops educational content for students, professional development for educators, and partners with school districts to help build a culture of digital citizenship. Prior to joining Common Sense, Barbara was a National Board Certified high school science teacher. She holds a bachelor's degree in integrated health studies from Kent State University, a master's degree in comprehensive science education from the University of North Carolina at Charlotte and is currently studying character education at the University of Birmingham.
Daniel Vargas Campos is an education content specialist at Common Sense Education. He develops research-backed educational resources that support young people to thrive in a digitally interconnected world. He has over four years of experience as a content creator in the education technology space. Prior to joining Common Sense Education, Daniel was a graduate instructor and researcher at the UC Berkeley Graduate School of Education where he studied the impact of educational technologies in the lives of students from non-dominant backgrounds. He holds an MA in social and cultural studies from UC Berkeley and a BA in interdisciplinary studies from Tufts University.
About the Moderator
Jennifer Ehehalt is the Pittsburgh regional manager at Common Sense Education. Jennifer has over 20 years of experience in education. She continues to partner with state-level organizations, school districts, and community organizations across the nation to help integrate Common Sense Education resources. Jennifer provides educational leadership through consultation with school districts, professional development (both in-person and virtual), conference presentations, and parent universities. Jennifer sits on the Advisory Council for Kidsburgh and is a champion for Remake Learning Days Across America. Jennifer has a B.S. in elementary education and an M.Ed. in educational leadership. Jennifer was recently named 2019 Alumni of the Year from Edinboro University. Follow Jennifer on Twitter @jehehalt.
Join the Digital Learning & Leadership community to network with educators, participate in online discussions, receive invitations to upcoming edWebinars, and view recordings of previous programs to earn CE certificates.
---
Common Sense Education develops high-quality digital citizenship programs and digital teaching resources, providing educators and students with the digital learning tools they need to harness the power of technology for life.
---
Details
Date:

Thursday, August 19, 2021

Time:

3:00 pm - 4:00 pm

EDT

Event Tags:
Related Events