Join live or receive a link to the recording and earn a CE certificate

Teaching with the News in a Time of Challenge and Change
Friday, November 13, 2020 @ 4:00 pm

-

5:00 pm

EST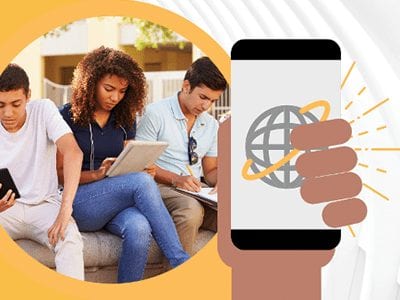 Presented by Jacquelyn Whiting, Innovation and Technology Specialist, Cooperative Educational Services; and Peter Adams, Senior Vice President of Education, News Literacy Project
Sponsored by ABC-CLIO
Closed captioning will be added to the recording within 2 weeks of the live presentation.
Get a CE Certificate for this edWebinar Learn more
In an age of filter bubbles and rapidly spreading misinformation, both educators and students must be self-reflective and analyze the personal biases and habits we bring with us as news consumers.
What do our students already know—or assume—about news sources? In order to teach information literacy skills effectively, what do educators need to know about students' preferred platforms for engaging with news, such as YouTube and TikTok, and source types like Medium that defy easy categorization?
In this timely edWebinar, veteran educators Peter Adams and Jacquelyn Whiting offer practical, up-to-the-minute strategies for meeting young news consumers where they are and nudging them toward more critical engagement with the news sources they encounter online. Viewer will come away from the edWebinar with:
A deeper understanding of how mis- and disinformation circulate
Practical instructional strategies to strengthen students' ability to categorize and understand the types of information sources they encounter online
Tips for teaching news literacy in a politically polarized time
Ready-to-use tools to help teachers and students debunk misinformation and rigorously evaluate news sources of all kinds
This recorded edWebinar will be of interest to middle and high school teachers, librarians, and school and district leaders.
About the Presenters
Jacquelyn Whiting is the innovation and technology specialist for Cooperative Educational Services (CES) in Trumbull, CT and information literacy editor at School Library Connection. She has a bachelor's in government studies and studio art from Connecticut College and a master's in social studies and education from South Connecticut State University. She is also a Google Certified Innovator and Local Activator for Future Design School. Jacquelyn is the co-author of News Literacy: The Keys to Combating Fake News. She presents frequently on human-centered design, student and educator voice, and innovative educational technology practices.
Peter Adams is the News Literacy Project's senior vice president of education. He began his career as a classroom teacher in the New York City schools through Teach For America. He has also taught in the Chicago public schools, at Roosevelt University and at Chicago City Colleges' Wilbur Wright campus. Since joining NLP in 2009, he has coordinated classroom and after-school programs, served as Chicago program manager, worked on organizational strategy and developed NLP's digital program. Peter is a graduate of Indiana University, where he majored in English and African American studies and co-founded an independent monthly student newspaper, and has a master's degree in the humanities from the University of Chicago.
Closed captioning will be added to the recording within 2 weeks of the live presentation.
Join the Real World Literacy community to network with educators, participate in online discussions, receive invitations to upcoming edWebinars, and view recordings of previous programs to earn CE certificates.
---
For 65 years, ABC-CLIO has been providing reference, nonfiction, online curriculum, and professional development to inspire life-long learning for today's students and educators. ABC-CLIO is a recognized leader in the field, providing print and online materials for learners, researchers, educators, librarians, and information specialists worldwide.
---