Join live or receive a link to the recording and earn a CE certificate

English Learners: Strategies for Digital Learning and the Language of Academic Content
Wednesday, September 30, 2020 @ 4:00 pm

-

5:00 pm

EDT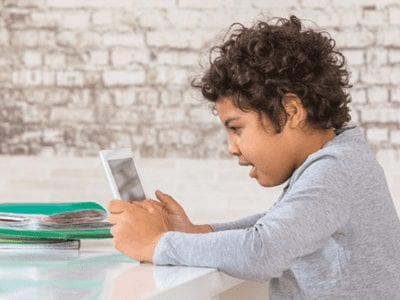 Presented by Mara Álvarez-Delgado, M.Ed., Dual Language Specialist, Wimbish World Language Academy, TX; Ben Grimley, CEO and Co-founder, Speak Agent; and Medha Tare, Ph.D., Director of Research, Learner Variability Project, Digital Promise
Hosted by Barbara A. Pape, Policy and Communications Director, Learner Variability Project, Digital Promise
Sponsored by Digital Promise
Closed captioning will be added within 2 weeks.
Get a CE Certificate for this edWebinar Learn more
Digital teaching and learning present unique challenges for all educators and students, but especially for English learners. How will they acquire the content-based academic language they need to succeed? What supports are available for digital learning? How can we transfer in-school strategies to digital environments? Our speakers share research-based learning strategies and supports that address learner variability, the shift to digital, and the specific challenges and opportunities for English learners.
In this edWebinar, the speakers:
Provide a framework for teaching the language of content, with a focus on math and science examples
Examine how to translate word walls, manipulatives, sentence frames, and many other research-based strategies to a digital-learning environment
Better understand the importance of family-teacher-student partnerships to help learning happen
Explore researched-based factors of learning that have an impact on all English learners
This recorded edWebinar will be of interest to K-12 teachers and administrators, especially those who teach English Learners, instructional coaches, ESL coordinators, EdTech coordinators, and other school and district leaders.
About the Presenters
Mara Álvarez-Delgado is the dual language specialist of a World Languages Academy in Arlington, Texas. She is a dual language educator with almost ten years of experience serving English language learners from pre-kindergarten through sixth grade. Her background includes a bachelor's in psychology, a master's in education in mind, brain, and education, and she is currently working on her doctorate in educational leadership and policy studies.
Ben Grimley is CEO and Co-founder of Speak Agent. He is a former ESL teacher who became a leading educational app creator. Ben led PBS KIDS Game & App Publishing where his products resulted in significant gains in language acquisition for millions of young learners. He then co-created Speak Agent to address the achievement gap for English learners, Title I students, and diverse learners using a unique "STEM + language" integration approach based on current learning sciences research. Ben has also served as Principal Investigator for K-12 research studies sponsored by the U.S. Department of Education, National Science Foundation, and the National Institutes of Health.
Medha Tare, Ph.D. is the director of research for the Learner Variability Project at the education nonprofit, Digital Promise. She leads the synthesis of research on the factors that affect children and adults' learning (content, cognition, social emotional, and background) to inform an open source web app, the Learner Variability Navigator. This work bridges the gap between the scientific literature and educators who are working to support students with different strengths and challenges. Medha earned her doctoral degree in developmental psychology at the University of Michigan and has published in journals such as Language Learning and Technology, Journal of Cognition and Development, and Science Education. She is also currently a Learning Science Exchange Fellow through New America.
About the Host
Barbara Pape is the policy and communications director for the Learner Variability Project at Digital Promise. She has 20 years' experience in strategic communications, writing, and policy analysis, primarily in education. Previously, she served as the executive producer of the award-winning Teaching & Learning conference, sponsored by the National Board for Professional Teaching Standards, where she developed content and oversaw outreach and communications. As a writer, she has written for numerous publications, including Harvard University, the National Education Goals Panel (U.S. Department of Education), and Parents magazine. Barbara also served as editor and publisher of the first electronically delivered education newsletter, the Daily Report Card. She served on the Advisory Board of the Kennedy Center's Intersection of Arts Education and Special Education Committee, serves as a judge for the Miliken-Penn Graduate School of Education Business Plan competition, and is on the Boards at the Education Writers Association and Potentia. She earned an Ed.M. at Harvard University's Graduate School of Education and launched her career as a middle school language arts teacher.
Join the Personalize Learning for Learner Variability community to network with educators, participate in online discussions, receive invitations to upcoming edWebinars, and view recordings of previous programs to earn CE certificates.
---
Digital Promise was created with the mission to accelerate innovation in education to improve opportunities to learn.
---