Join live or receive a link to the recording and earn a CE certificate

Developing Embodied SEL: How to Easily Integrate Service Learning into Your Classroom
Tuesday, September 28, 2021 @ 3:00 pm

-

4:00 pm

EDT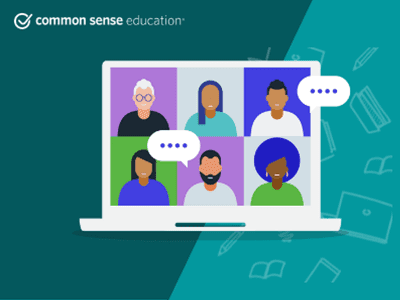 Presented by Wendy Zachrisen, Senior Director, Strategic Planning and Operations, UNICEF Kid Power®; and Nikki Ortiz-Tatarka, Elementary Theatre Teacher and Arts Team Lead, Midway Elementary School of the Arts (FL)
Moderated by Jennifer Ehehalt, Senior Education Program Manager, Common Sense Education
Sponsored by Common Sense Education
Closed captioning will be added to the recording within 2 weeks of the live presentation. Get a CE Certificate for this edWebinar Learn more.
By helping others, we actually help ourselves, too! When we empower kids to believe that they can make a difference in the world, and then we give them the opportunity to actually practice helping others, they unlock powerful mental health outcomes for themselves. We call this type of service learning "embodied SEL," and although integrating a service-learning program may sound intimidating, it can be very simple (and free).
View this edWebinar to learn:
How to use the UNICEF Kid Power program, a free, interactive video platform that connects students' activity within the platform to real-world support that UNICEF and its partners deliver to children and families in need globally and locally.
Ways to build classroom community and keep students motivated.
Specific whole-child benefits (social emotional, mental health, physical health and academic) for students who participate in UNICEF Kid Power.
Best practices for implementing a service-learning program into your classroom or school (for both in-person and virtual learning).
Where to access 150+ SEL and physical activity videos (featuring characters, celebrities, and athletes that kids know and love) to help students regulate emotions, explore identity, develop resilience, discuss difficult topics (racism, adjusting to new situations, and more), relax, and refocus through brain breaks.
This edWebinar will be of interest to teachers, school and district leaders, school counselors, teachers of students with special needs, and PE teachers of the kindergarten through elementary levels.
About the Presenters
Wendy Zachrisen is a parent and a former teacher who has been supporting fellow educators and children in her various roles for nearly 25 years. Her areas of expertise include teacher professional development, curricular content development, executive leadership, strategic planning, marketing, product development, and business development. She has worked for children's products manufacturers, educational publishers, and children's service providers. Wendy has been with the UNICEF Kid Power team for one and a half years.
Nikki Ortiz-Tatarka has been an early childhood and elementary educator for the past 15 years, focusing much of her work on creating a classroom that embodies arts integration and culturally responsive practices. As a grade-level teacher, Nikki has embedded daily routines to support the social-emotional well-being of all students and connect social-emotional learning elements into all content areas. Recently, Nikki began a new education journey as an elementary theatre teacher and arts team lead. In her current role, she works with students in kindergarten through fifth grade, combining theatre education standards with her school's artful learning model. Outside of the classroom, Nikki has a passion for working with other educators to explore new methods of teaching and conditions of learning to create the most impactful environment for children.
About the Moderator
Jennifer Ehehalt is the Pittsburgh regional senior educational program manager at Common Sense Education. Jennifer has over 20 years of experience in education. She continues to partner with state-level organizations, school districts, and community organizations across the nation to help integrate Common Sense Education resources. Jennifer provides educational leadership through consultation with school districts, professional development (both in-person and virtual), conference presentations, and parent universities. Jennifer sits on the Advisory Council for Kidsburgh and is a champion for Remake Learning Days Across America. Jennifer has a B.S. in elementary education and an M.Ed. in educational leadership. Jennifer was recently named 2019 Alumni of the Year from Edinboro University. Follow Jennifer on Twitter @jehehalt.
Join the Digital Learning & Leadership community to network with educators, participate in online discussions, receive invitations to upcoming edWebinars, and view recordings of previous programs to earn CE certificates.
---
Common Sense Education develops high-quality digital citizenship programs and digital teaching resources, providing educators and students with the digital learning tools they need to harness the power of technology for life.
---
Details
Date:

Tuesday, September 28, 2021

Time:

3:00 pm - 4:00 pm

EDT

Event Tags:
Related Events