Join live or receive a link to the recording and earn a CE certificate

Reflecting on Assessments: How to Measure Student Voice
Wednesday, June 16, 2021 @ 4:00 pm

-

5:00 pm

EDT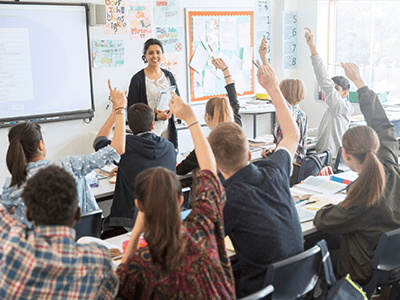 Presented by Alicia Johal, Assistant Director, Center for Innovation and Entrepreneurial Thinking, and Middle School Robotics Teacher, San Diego Jewish Academy (CA); and Jamie Nunez, Bay Area Regional Manager, Common Sense
Moderated by Jennifer Ehehalt, Sr. Education Manager, Common Sense Education
Sponsored by Common Sense Education
Closed captioning will be added to the recording within 2 weeks of the live presentation.
Get a CE Certificate for this edWebinar Learn more.
This year required flexibility. From remote, to hybrid, to in-person instruction, educators had to look at how to re-design learning and assessment experiences to make it work for our students.
How did we incorporate student online voice and engagement? What authentic experiences did we cultivate? What innovative ideas can we take into next year? With the end of our first whole school year during the pandemic approaching, let's reflect on the community.
In this recorded edWebinar, viewers will learn:
How to design assessments with student voice at the center
How to set up rubrics for meaningful feedback
Methods and tools to design authentic learning experiences
This recorded edWebinar will be of interest to teachers, teachers on special assignment, and school and district leaders of all grade levels.
About the Presenters
Alicia Johal is a ninth-year educator who has taught middle and high school science, engineering and robotics. Alicia is currently the assistant director for the Center for Innovation and Entrepreneurial Thinking at the San Diego Jewish Academy. She is the co-founder of the Inclusive STEM & CS Summit and is a justice-driven teacher who works to create opportunities on and off campus for students to have access and success in STEM and computer science. She has been awarded by state and federal programs for her work creating comprehensive STEM programming for under-resourced school communities. Outside of her K-12 work, she is an adjunct professor, passionate about supporting and mentoring new teachers. She is driven by collaboration and shares at conferences around the topics of equitable grading, authentic assessment, student agency and voice, STEM literacy, and mastery-based teaching and learning.
For over 18 years, Jamie Nunez has redefined education practices by designing creative opportunities for educators to connect with their students. As a former high school teacher, school administrator, and after-school director, Jamie has trained thousands of educators on student engagement in digital spaces. The common threads across his practice are the belief that learning is most powerful when it's founded on a child's experience outside of the classroom, and student engagement is most impactful when it fosters their digital identity. When not working, Jamie can be found in the ocean teaching his six-year-old daughter how to surf.
About the Moderator
Jennifer Ehehalt is the Pittsburgh regional manager at Common Sense Education. Jennifer has over 20 years of experience in education. She continues to partner with state-level organizations, school districts, and community organizations across the nation to help integrate Common Sense Education resources. Jennifer provides educational leadership through consultation with school districts, professional development (both in-person and virtual), conference presentations, and parent universities. Jennifer sits on the Advisory Council for Kidsburgh and is a champion for Remake Learning Days Across America. Jennifer has a B.S. in elementary education and an M.Ed. in educational leadership. Jennifer was recently named 2019 Alumni of the Year from Edinboro University. Follow Jennifer on Twitter @jehehalt.
Closed captioning will be added to the recording within 2 weeks of the live presentation.
Join the Digital Learning & Leadership community to network with educators, participate in online discussions, receive invitations to upcoming edWebinars, and view recordings of previous programs to earn CE certificates.
---
Common Sense Education develops high-quality digital citizenship programs and digital teaching resources, providing educators and students with the digital learning tools they need to harness the power of technology for life.
---
Related Events