Join live or receive a link to the recording and earn a CE certificate

Executive Function: Essential Classroom Skills
Thursday, November 10, 2022 @ 2:00 pm

-

3:00 pm

EST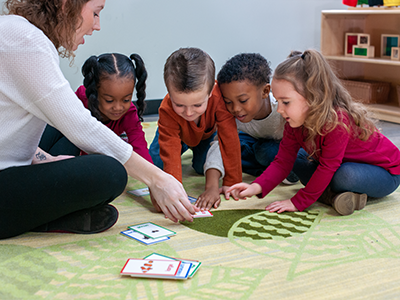 Presented by Dr. Andrei Semenov, Clinical Study Manager at EarliTec Diagnostics, Developmental Researcher, Research Consultant at Reflection Sciences, Data Analyst; and Renae Ouillette, EFgoPRO Implementation Specialist, Reflection Sciences
Sponsored by Kaplan Early Learning Company
Learn more about viewing the live presentation and the recording, earning your CE certificate, and using our new accessibility features.
Resisting the urge to talk out of turn, remembering rules in the classroom, and shifting attention between activities are all daily challenges for young students. These types of behaviors belong to a set of neurocognitive skills called executive function skills. Modern cognitive and neuroscience research has shown that these skills start to emerge at an early age and continue to develop through adulthood. In this edWebinar, Dr. Andrei Semenov and Renae Ouillette talk about the development of executive function skills and how these skills manifest themselves in the classroom as well as strategies teachers and parents can take to improve a child's proficiency at these skills.
This recorded edWebinar is of interest to PreK-3 teachers, school and district leaders, education technology leaders, school psychologists, school counselors, and occupational therapists.
About the Presenters
Dr. Andrei Semenov is a developmental psychologist and currently an NIMH postdoctoral fellow at the University of Minnesota Institute of Child Development. He received his Ph.D. in developmental psychology from the University of Minnesota in 2021, and his B.A. from the University of Colorado in 2013. Dr. Semenov conducts research on the development of executive function skills in childhood. He is particularly interested in how parenting practices in the context of family routines can help promote EF skills and autonomy-supportive parenting. Dr. Semenov also is interested in mindfulness meditation and how reflective practices can be used to promote EF development in children and adults. Dr. Semenov's work has been funded by the Bezos Family Foundation, Hemera Foundation, and grants from the University of Minnesota. At Reflection Sciences, Dr. Semenov consults on teacher professional development, parent outreach blogs, and MEFS/EFgo data.
Renae Ouillette has over 25 years of experience as a district-level administrator focusing on improving outcomes for students who experience barriers to learning. She is passionate about bridging the gap between scientific research and educational practice. Renae has championed the need to embed social-emotional learning and executive function into professional development and student learning. She is trained in implementation science and understands the challenges of making sustainable organizational change. Renae helps all new school districts with their EFgoPRO™ implementation. After receiving a Bachelor of Science degree in psychology at Michigan State University, Renae went on to earn her master's in developmental psychology and specialist in psychological services in school psychology from Central Michigan University. She obtained her administrative licensure through the University of Minnesota and has taken courses to become a licensed clinical counselor through Adler Graduate School. Renae has taught and guest lectured at several colleges and universities in Minnesota.
Learn more about viewing the live presentation and the recording, earning your CE certificate, and using our new accessibility features.
Join the Classroom Management for Early Learning community to network with educators, participate in online discussions, receive invitations to upcoming edWebinars, and view recordings of previous programs to earn CE certificates.
---
For more than 50 years, Kaplan Early Learning Company has been a champion for play. From our research-based curricula to enriching classroom environments and innovative technology solutions, Kaplan's products and services inspire a lifelong love of learning in children and educators. We are architects of learning good and defenders of the imagination. We live for inseparable bonds and open minds. We encourage the eager and inspire the inspirers. We transform lives through play.
---
Related Events