Join live or receive a link to the recording and earn a CE certificate

Creating a Thriving Inclusive Classroom Space
Wednesday, November 9, 2022 @ 6:00 pm

-

7:00 pm

EST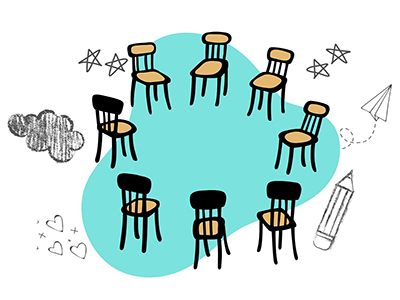 Presented by Kristi Houston, Third-Grade Teacher, Hampden Elementary School (PA); and Denise Buck, RLA High School Teacher, Del Valle High School (TX)
Sponsored by The Educating All Learners™ Alliance (EALA), An InnovateEDU Project
Watch the Recording Listen to the Podcast
Learn more about viewing the live presentation and the recording, earning your CE certificate, and using our new accessibility features.
Classrooms are more than just the physical space that makes them up. They are built from both mental and physical components meant to benefit all learners involved (students, teachers, support staff, you name it!). Join the Educating All Learners Alliance in a discussion with four educators from across the country about real ways teachers are making their classrooms more inclusive—without breaking the money or time bank. In this edWebinar, we share stories of success, considerations for challenges, future ideas, and the first steps to get you started.
This recorded edWebinar is of interest to K-12 teachers, school leaders, and education technology leaders.
About the Presenters
Kristi Houston is teaching her 20th year in education. She has taught kindergarten, second grade, and now third grade for the last six years. She is a mentor teacher at her school and also hosts student teachers in her classroom. She serves on multiple committees such as the Science/Social Studies Curriculum team and the Math Curriculum team. She strives to incorporate SEL throughout the entire day. In addition, she brings in hands-on STEAM activities to help her students activate their learning.
Denise Buck, RLA High School Teacher, is in her 13th year teaching in the border city of El Paso. She began her career as a full-time ESL teacher and had to balance teaching curricula with teaching a language as well. While it was not easy, she believes it has shaped who she is as an educator today. In her classroom, she ensures that her students have access to vocabulary at all times as well as a safe space (Remind/Google Classroom) to ask her questions without anyone else hearing/seeing. This allows her to "indirectly" help her students without placing a target on their backs. High schoolers need to feel confident in their learning before they take risks and believing that their teacher has their best interests at heart helps with this as well.
Learn more about viewing the live presentation and the recording, earning your CE certificate, and using our new accessibility features.
Join the Classroom Environments: From Class Set-up to Student Engagement by Design community to network with educators, participate in online discussions, and receive invitations to upcoming edLeader Panels.
---
The Educating All Learners Alliance (EALA) is an uncommon coalition of organizations committed to resource sharing and community-building that supports the efforts of the education community to meet the needs of students with disabilities or learning differences. The Alliance represents voices from a diverse range of communities, including disability advocacy, parent, special education, civil rights, and K-12 nonprofit education organizations. EALA leads the development of a Resource Library, Tech Tool Library, events, podcasts, and working groups in order to bring awareness to the challenges and opportunities surrounding students with disabilities in K12 education, and how we can best support them.
---
Related Events