Join live or receive a link to the recording and earn a CE certificate

Making Champions: Engaging Our EL and ESE/SPED Learners
Thursday, February 17, 2022 @ 4:00 pm

-

5:00 pm

EST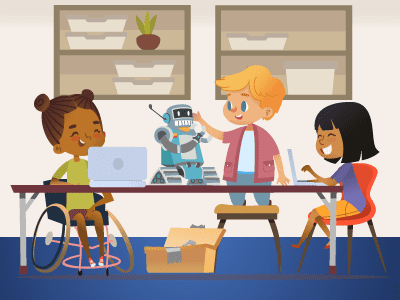 Presented by Elizabeth Morales, Principal, Okeeheelee Middle School (FL); Deborah Escalante Montoya, Ed.D., Senior Director, Imperial County SELPA (CA); Michael Ramírez, M.S., Deputy Superintendent of Schools, Denver Public Schools (CO); Russell Coronado, Executive Director, South County SELPA, San Diego; and David Samore, Ed.D., CEO, David Samore & Associates, LLC, and Mindsets Learning Advisor
Sponsored by Mindsets Learning
Watch the Recording Listen to the Podcast
Learn more about viewing the live presentation and the recording, earning your CE certificate, and using our new accessibility features.
Student engagement is fundamental to learning. Ask any K-12 school administrator in the United States which subgroups show the most modest academic gains, and their answer is remarkably consistent: special populations, particularly, English learners (ELs) and ESE learners/students with special needs. Despite significant financial investment made by U.S. school districts, "moving the needle" for these learners remains stubbornly elusive. Yet great attention is paid by state legislatures to seek, discover and implement successful strategies for these worthy learners.
Which strategies meaningfully engage EL students and bridge content and language? What approaches to learning bring relevance and cultural connection to ELs? Given the variety of learning disabilities and processing challenges, how do schools position the most appropriate strategies and support to our ESE learners and students with special needs and their teachers? View this edWebinar with school leaders from diverse regions of the U.S. as they share candid and concrete strategies of engagement with all participants.
This recorded edWebinar is of interest to school, district, and education technology leaders of the middle and high school levels. Your CE certificate for this edWebinar will include ESL/ELL as a category for your professional learning.
About the Presenters
Eli Morales serves as the principal of Okeeheelee Middle School in Greenacres, Florida. Eli has passionately served as an educator for 24 years with a wide range of experience from kindergarten through high school in low to high socio-economic settings. She is an immigrant who is passionate about education as the tool to equal the playing field for all students. Eli currently serves on the board of directors for Adopt-a-Family and is on the International Spanish Academy Advisory Board. She loves to read, travel and spend time with her husband and three children.
Deborah Escalante Montoya, Ed.D. is a Sr. Director for the Imperial County SELPA. Dr. Montoya has over 20 years of experience working with and leading programs for students with disabilities.
Dr. Montoya is a strong advocate for students with disabilities and English language learners. She believes in the important work of educators and the array of opportunities they can provide to ensure equitable and accessible learning environments for each student.
Dr. Montoya has worked as a school psychologist, principal, director of special education and support services for an LEA, then the Imperial COE prior to her role as the Imperial County SELPA Sr. Director. At present, she is leading the SELPA Content Lead work: Improving Outcomes for Students with Disabilities Who Are English Learners, in partnership with the California Department of Education and the California Collaborative for Educational Excellence.
Michael J. Ramírez is currently the Deputy Superintendent of Schools for Denver Public Schools, which serves 93,000 students PK-12 across the metro-Denver area. As Deputy Superintendent, he is responsible for the supervision of all district-managed schools providing visionary leadership to ensure that school leaders are supported in strategies so that every child thrives, not by accident, but rather by design. Entering his third year in Denver, he has led the school's division focused on those students needing the most in our schools, having the best support to be successful. He is committed to leading the drive to continually improve the quality of schools, eliminate the opportunity gaps and ensure that every student receives a high-quality education. He believes that public education is the great equalizer. He has brought a culture of collaboration, personalization and continuous improvement, supporting the ongoing learning and development of his team members.
Prior to his role in Denver, Michael served as a Cadre Director for the Office of School Performance and Accountability with Broward County Public Schools in Fort Lauderdale, Florida. He held that position in the nation's sixth-largest school district serving 271,000 students PK-12 for seven years. In this position, he supervised the high schools in the school district providing support, coaching and evaluation. His primary responsibilities included increasing academic achievement, graduation rates, college/career life readiness, and overall school culture. He received his B.S. in secondary education from Southeastern College (Lakeland, FL) and his M.S. in educational leadership from Nova Southeastern University (Fort Lauderdale, FL).
Michael is entering his 27th year in education. He has served as a high school principal, assistant principal and teacher prior to his current position. He started his career as a social studies teacher and coach at Dade Christian School in Miami, Florida before moving over to Broward County Public Schools. He taught social studies and served as a behavior specialist at J.P. Taravella High School, then became Assistant Principal and Principal at Coral Glades High School before moving to central office.
Additionally, he has served as an adjunct professor at Barry University (Miami, FL) in the Adrian Dominican School of Education, as well as the president of the Florida Association of Latino Administrators and Superintendents (FL-ALAS). He is a graduate of two Superintendent Academies which have provided him with his foundation for his beliefs in equity leadership. In 2018, Michael was inducted into the Broward Education Foundation Hall of Fame Alumni in Broward County Public Schools for his work, contributions and impact on public education. He is married to his wife, Danielle, and together they have a beautiful four-year-old, Mia Grace.
Russell Y. Coronado is the Executive Director of the San Diego South County Special Education Local Plan Area (SELPA). A highly respected educator with an outstanding reputation for advocating for compliant, student-focused programs, Mr. Coronado has successfully delivered comprehensive special education training and programming throughout the South County Region. As a member of the State SELPA Association Finance Committee and SELPA Coalition Steering Committee, he provides valuable insight into Special Education funding and finances. Mr. Coronado guides and advocates for the six member school districts and the San Diego County Office of Education in all facets of special education. He has developed a specific emphasis in the area of second language learners, at-risk youth, and under-represented students. He has built a reputation around Positive Behavioral Interventions and Supports, Multi-Tiered Systems of Support, Equity and Disproportionality, Promoting the social and academic well-being of children throughout San Diego County. Mr. Coronado has served as an adjunct professor for a local university. He has served on many boards including the Chula Vista Elementary School District Board of Education, YMCA, and the National University Special Education Advisory Board. "To support and celebrate the personal, social and academic success of every student, every day!"
Dr. David Samore has been a teacher and administrator of K-12 schools for 35 years in Iowa, Florida, South Carolina, Spain and Colombia, South America. Dr. Samore served as the Director of Global Leadership and Innovation in Palm Beach County, Florida and in 2015 was named the Florida Principal of the Year by the NASSP which highlighted his growth mindset for all students. As principal, Samore's dual language immersion school was recognized twice as the School of the Year​ for North America by the Embassy of Spain. David was recently honored by King Felipe VI of Spain and conferred the Officer's Cross of the Order of Isabel la Católica.
Dr. Samore is currently a guest lecturer at Universidad Cardenal Cisneros in Madrid, Spain and is CEO of David Samore & Associates, LLC, a private consulting practice which helps organizations fulfill their highest potential through common sense leadership and purposeful talent discovery. Dr. Samore also serves as an advisor to Mindsets Learning, a platform that brings fun and relevance to learning math through real-world challenges and projects in over 100 languages.
Learn more about viewing the live presentation and the recording, earning your CE certificate, and using our new accessibility features.
Join the Inspire Learning & Engagement community to network with educators, participate in online discussions, receive invitations to upcoming edWebinars, and view recordings of previous programs to earn CE certificates.
---
Mindsets Learning re-engages students in math through inquiry-based, real-world challenges. Themes include sports, art, data science, entrepreneurship, environment, and many more for grades 4-8. www.mindsets.com
---
Related Events