Join live or receive a link to the recording and earn a CE certificate

Secondary Newcomers: Equitable Pathways for Diverse EL Profiles
Monday, November 14, 2022 @ 3:00 pm

-

4:00 pm

EST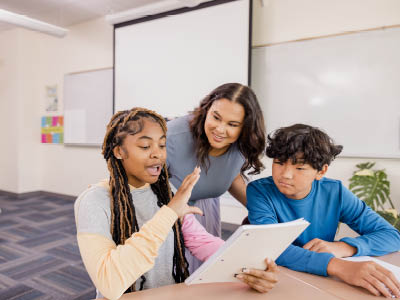 Presented by Lindsey Bird, Education Coach and Consultant, Lindsey Bird Consulting and Teach Plus California
Sponsored by Houghton Mifflin Harcourt
Learn more about viewing the live presentation and the recording, earning your CE certificate, and using our new accessibility features.
In general terms, the K-12 school system is designed to teach students how to read kindergarten through third grade, and then shifts to students relying on reading to learn fourth grade and beyond. Students reading below grade level in the upper grades of elementary have statistically faced an uphill challenge when compared to peers reading at grade level. Yet the demographic that too often gets left out of this conversation about the "remediation" of grade-level competency is a group of students who were not even physically present in U.S. schools during those vital foundational years of primary education—newcomers.
Newcomers who enter the U.S. school system after the primary grades arrive in classes with curricula and standards assuming some degree of English proficiency. Yet for many, not only is English a new language, but so is the Roman alphabet. And for many, gaps in their formal education mean language is only one of the hurdles these motivated new Americans face.
Watch this edWebinar to learn how to best address newcomers entering U.S. schools post-primary education, starting first with our mindsets. Viewing these students for the assets they bring, rather than the deficits they might be perceived to have when compared to their native-born peers, is vital. Then, hear about the importance of exploring the diversity within the various EL profiles newcomers bring into our classrooms and designing equitable pathways that accelerate (not remediate) students toward English proficiency and grade-level content mastery.
This recorded edWebinar is of interest to K-12 teachers, especially multilingual teachers, and school and district leaders.
About the Presenter
Lindsey Bird recently left a 17-year teaching career, the past decade of which was spent as the developer, instructor, and coordinator of the Language Institute, a specialized program serving immigrant, refugee, and asylum-seeking high school students in Modesto, California, which was nationally recognized as a model for supporting the needs of newcomer students.
Lindsey is a social justice champion and ally to immigrant students and families at the local, state, and national levels. An alumna of the Teach Plus California Fellowship, Lindsey advocated the state legislature for tenure reform, as well as successfully inserting explicit protections for newcomer students in the education code. She received the Maestra del Ano award from the Association of Mexican American Educators and the Amiga of the Year award from El Concilio, and was honored as a Carlston Family Foundation Outstanding Teacher of America. Lindsey earned a BA in social science from California State University Chico and an M.Ed. in literacy and digital learning from the University of San Diego. Check out Lindsey's TED Talk on the superpower of empathy.
Learn more about viewing the live presentation and the recording, earning your CE certificate, and using our new accessibility features.
Join the Helping ELL, ESL, and Bilingual Students Succeed community to network with educators, participate in online discussions, receive invitations to upcoming edWebinars, and view recordings of previous programs to earn CE certificates.
---
The learners of today will shape the world of tomorrow. HMH brings learning to countless students and teachers—transforming lives, supporting communities, and making our society more just and inclusive for all. We offer a connected system of research-backed solutions, where assessment drives instruction and learning can be personalized to meet students' needs. Our engaging, equity-minded content and customized PD are designed to elevate the potential of every learner.
---
Related Events