Join live or receive a link to the recording and earn a CE certificate

Supporting Educators and Families in Virtual Learning Environments with the Indiana eLearning Lab
Tuesday, October 6, 2020 @ 2:00 pm

-

3:00 pm

EDT
Presented by Nate Walden, Instructional Designer, Indiana eLearning Lab; and David McGuire, Moderator, Parent/Families Community of Practice, Indiana eLearning Lab, and Principal, Tindley Preparatory Academy, IN
Moderated by Christine Fox, Interim Executive Director, SETDA
Sponsored by SETDA
Hosted by The Indiana eLearning Lab
Get a CE Certificate for this edWebinar Learn more
This edWebinar is an introduction to the Indiana eLearning Lab. The Lab is FREE and focuses on helping educators and parents/guardians as they support remote learners. The Indiana eLearning Lab provides access to resources, example lesson plans, and communities of practice for deeper conversations and discussions. The Lab is brought to you through the support of the Indianapolis eLearning Fund in partnership with The Mind Trust, SETDA, and Five Star Technology Solutions.
This recorded edWebinar will be of interest to kindergarten through high school teachers, librarians, and school and district leaders.
About the Presenters
Nate Walden is a proud resident of Indianapolis and has worked in the education field for 15 years. He earned a bachelor's degree in education from Indiana University and a Master's in Instructional Design from American College of Education. Nate was a classroom teacher for 11 years before moving into an instructional and technology integration coaching position with Five Star Technology Solutions. Now he works as an instructional design specialist at Five Star, designing professional development courses for educators, as well as working with the team to build content for the Indiana eLearning Lab.
David McGuire was born and raised in Indianapolis. He graduated from Central State University where he received a bachelor's degree in English. He received his Master of Business Administration from Indiana Wesleyan University. He attended Marian University where he received his administrator's license from their Academy for Teaching and Learning Leadership. He is currently pursuing his Doctorate in Education in organizational leadership from Marian University. He is a graduate of Relay National Principal Fellowship. David was a 2016 Teach Plus Policy Fellow and a 2017 Teach Plus Alumni Policy Fellow. In his spare time, he is a blogger for the Indianapolis Education Outlet Indy K12 and contributor to Brightbeam Media. He also enjoys doing work in the community on the Far Eastside through Dubarry Determined. David is entering his fifth year at Tindley where he has served as Principal of Tindley Preparatory Academy and the MTSS coordinator. He is entering his fourth year as Principal of Tindley Summit Academy.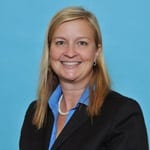 About the Moderator
Christine Fox is the Interim Executive Director for SETDA. As Interim Executive Director, she is charged with charting the strategic direction, administration, planning and financial decisions involving SETDA. She also facilitates the members' online and in-person professional learning opportunities. In addition, she manages SETDA's research and product development projects from conception to publication. The management of such projects includes supervising consultants and staff, coordinating data collection from all states, ensuring member input and supervising the publication process. Recent publications and projects include the eLearning Coalition, Navigating the Digital Shift reports 2015-2019, the Professional Learning and K12 Instructional Materials Dashboards, the Broadband Imperative Report Series, Guide to Quality Instructional Materials and the Digital Instructional Materials Acquisition Policies for States online portal. Christine's background includes experience in education as an educational consultant and curriculum developer, ESOL coordinator and third grade teacher. She has a Master of Science in teaching English as a second language from Florida International University and received her bachelor's degree in English Literature from Florida State University. She lives in south Florida with her husband and two daughters.
Join the Essential Elements for eLearning community to network with educators, participate in online discussions, receive invitations to upcoming edWebinars, and view recordings of previous programs to earn CE certificates.
---
The State Educational Technology Directors Association (SETDA) is a 501(c)3 not-for-profit membership association launched by state education agency leaders in 2001 to serve, support and represent their emerging interests and needs with respect to the use of technology forteaching, learning, and school operations. Our current work is guided by a strategic plan, Leading, Inspiring and Empowering: The 2013-16 SETDA Strategic Plan, adopted by the SETDA Board of Directors in October 2012 after extensive consultation with the membership. The SETDA mission is to build and increase the capacity of state and national leaders to improve education through technology policy and practice.
The Indiana eLearning Lab is a digital hub for educators to get professional development on virtual learning. The Lab is also intended to help students' caregivers better understand how to interact with online learning, as many schools make it a focus due to the pandemic.
---
Related Events