Join live or receive a link to the recording and earn a CE certificate

Broadband Imperative II: Increase Infrastructure to Support Student-Centered Learning
Monday, January 23, 2017 @ 4:00 pm

-

5:00 pm

EST
Presented by Christine Fox, Deputy Executive Director for SETDA; Sherilyn Evans, Senior Vice President and Chief Operating Officer of CENIC, California; and Tony Hunter, CIO, Broward County Public Schools, Florida
Hosted by SETDA and Sponsored by AT&T
If you attended the live session, you'll be emailed a CE certificate within 24 hours of the webinar. If you view the recording and would like a CE certificate, join the Essential Elements for Digital Content community and go to the Webinar Archives folder to take the CE quiz.
This session provides an overview of SETDA's report, The Broadband Imperative II: Equitable Access for Learning, which advocates for increasing robust broadband access both in and out of school to best prepare all students for college and careers. The 2016 report expands on earlier recommendations from SETDA's groundbreaking report, The Broadband Imperative: Recommendations to Address K-12 Education Infrastructure Needs and SETDA and Common Sense Kids Action's State K-12 Broadband Leadership: Driving Connectivity and Access report.
In addition, CENIC provides an overview of the California K12 High Speed Network and its support of broadband delivery to K-12 schools across the state. The network not only delivers fiber-based broadband speeds, it also provides access to rich learning content affiliated with the University of California and Cal State systems in the state. Finally, Broward County Public Schools (BCPS) is the nation's sixth largest school district serving a large and diverse community. BCPS reviews the district's strategy to drive improved learning outcomes via the support of media-rich learning delivered over the district's fiber-based network. This recorded webinar will benefit K-12 teachers, tech specialists, edtech leaders, and administrators.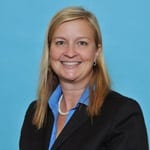 About the Presenters
Christine Fox is the deputy executive director for SETDA. As deputy executive director, she collaborates with the executive director in charting strategic direction, administration, planning and financial decisions involving SETDA. She also facilitates the members' professional learning opportunities including planning and implementing the content for SETDA's virtual and in-person events and newsletters. In addition, she manages many of SETDA's research and product development projects from conception to publication. She has worked as an educational consultant and curriculum developer for a national whole school reform model, ESOL coordinator and 3rd grade teacher.
Sherilyn Evans is Senior Vice President and Chief Operating Officer at the Corporation for Education Network Initiatives in California (CENIC). CENIC is the non-profit organization that operates the California Research and Education Network (CalREN), a high-capacity broadband network designed to meet the unique requirements of over 20 million Californians, including the vast majority of K-20 students, educators, and researchers, as well as other vital public-serving institutions. Sherilyn joined CENIC in 2000, initially providing leadership to the Digital California Project. Previous to her work at CENIC Sherilyn enjoyed a successful twenty-year career at the University of California, serving on the IT management team at UC Office of the President.
Tony Hunter has more than thirty years of experience in information & technology. During his career, he has served in state government as the information system's chief for the Florida Legislature; in the private sector as the director, data communications North America for Eka Chemicals; and in education as the executive director, information technology for DeKalb County Public Schools just prior to joining Broward County Schools where he currently serves at the chief information officer for the sixth largest school district in the country. Tony holds a B.S. Degree in information & technology with a concentration in data communications as well as multiple industry certifications.
Join the Essential Elements for Digital Content community to network with educators, participate in online discussions, receive invitations to upcoming webinars, view past webinars, take a quiz to receive a CE certificate for a past webinar, and access free resources.
The State Educational Technology Directors Association (SETDA) is a 501(c)3 not-for-profit membership association launched by state education agency leaders in 2001 to serve, support and represent their emerging interests and needs with respect to the use of technology for teaching, learning, and school operations. Our current work is guided by a strategic plan, Leading, Inspiring and Empowering: The 2013-16 SETDA Strategic Plan, adopted by the SETDA Board of Directors in October 2012 after extensive consultation with the membership. The SETDA mission is to build and increase the capacity of state and national leaders to improve education through technology policy and practice.
Listen to the Podcast
We're happy to make podcasts available for selected panel discussions and interviews.
If you would like a CE certificate for this presentation, watch the edWebinar recording and take the CE quiz.