Join live or receive a link to the recording and earn a CE certificate

Special Education, Curriculum-Based Measures, and Learning Recovery: A Framework for Confident Decision Making
Wednesday, March 1, 2023 @ 2:00 pm

-

3:00 pm

EST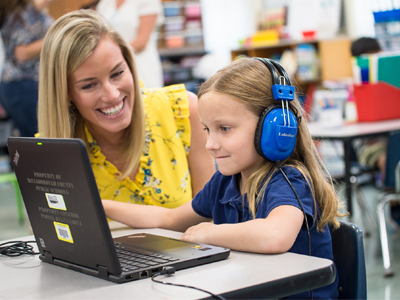 Presented by Scott McConnell, Ph.D., Director of Assessment Innovation at Renaissance and Emeritus Professor of Educational Psychology at the University of Minnesota; and Rachel Brown, Ph.D., Senior Research Consultant at Renaissance and Professor of Educational and School Psychology Emerita at the University of Southern Maine
Sponsored by Renaissance
Learn more about viewing the live presentation and the recording, earning your CE certificate, and using our new accessibility features.
Every day, educators are tasked with making good instructional decisions using all of the information at their disposal. This is often easier said than done, and it can be especially difficult when large numbers of students are struggling to meet grade-level expectations—or when a learning disability may be involved.
In this edWebinar, Dr. Rachel Brown and Dr. Scott McConnell provide a practical decision-making framework you can use to confidently determine what type of instruction is needed to support all students' learning needs. Watch to learn more about:
The history of curriculum-based measures (CBMs) and when they may be appropriate for identifying risk and monitoring progress for all students—including those suspected of having a learning disability
The current landscape of special education and how CBM data can be used to assist teams in considering referrals and eligibility
Using all of your assessment data—academic achievement and social-emotional behavior—to identify the best services and supports for each learner
This recorded edWebinar is of interest to K-12 teachers, school and district leaders, special education coordinators and directors, and assessment, MTSS, and RTI coordinators.
About the Presenters
Scott McConnell, Ph.D. is Director of Assessment Innovation at Renaissance and Emeritus Professor of Educational Psychology at the University of Minnesota. He is the founder of Early Learning Labs and the co-creator of the myIGDIs for Preschool and Star CBM assessments. His research has focused in part on the use of CBM and other General Outcome Measures to support great outcomes for all students.
Rachel Brown earned her Ph.D. in school psychology and special education at the University of Massachusetts Amherst. She joined FastBridge, now part of Renaissance, in 2015 where she currently serves as a senior research consultant. Dr. Brown is also Professor of Educational and School Psychology Emerita at the University of Southern Maine. Her research focuses on effective reading instruction and assessment within a Multi-Tiered System of Support.
Learn more about viewing the live presentation and the recording, earning your CE certificate, and using our new accessibility features.
Join the Assessment for Learning community to network with educators, participate in online discussions, receive invitations to upcoming edWebinars, and view recordings of previous programs to earn CE certificates.
---
Renaissance creates student-centered programs that give educators insights and resources to effectively target instruction, accelerate growth, and help every student build a strong foundation for success.
Related Events