Join live or receive a link to the recording and earn a CE certificate

Broadband Imperative: State Leadership Supports Equity of Access for All Students
Thursday, July 13, 2017 @ 3:00 pm

-

4:00 pm

EDT
Presented by Dave Childs, Project Manager for the Michigan Statewide Educational Network (MISEN); Ann-Marie Mapes, consultant for the P-20 Office of Data and Information Management in the Educational Technology Unit at the Michigan Department of Education (MDE); and Kurt Kiefer, Assistant State Superintendent, Division for Libraries and Technology, Wisconsin Department of Public Instruction
Hosted by Christine Fox, Deputy Executive Director, SETDA
Hosted by SETDA and Sponsored by AT&T
Watch the Recording
Listen to the Podcast
If you attended the live session, you'll be emailed a CE certificate within 24 hours of the edWebinar. If you view the recording and would like a CE certificate, join the Essential Elements for Digital Content community and go to the edWebinar Archives folder to take the CE quiz.
This session is part of a series of edWebinars on SETDA's 2016 report, The Broadband Imperative II: Equitable Access for Learning. States are uniquely positioned to provide both policies and funding to help ensure all students have equitable access to reliable high-speed broadband access. State leaders share examples of support to ensure the equity of access for all students including statewide partnerships, regional consortia and policy initiatives. State leaders from Michigan and Wisconsin share their unique approaches to broadband implementation and support statewide. This recorded edWebinar will benefit K-12 educators, state and district administrators, CIOs, IT directors and network leaders.
About the Presenters
Dave Childs is the project manager for the Michigan Statewide Educational Network (MISEN). In this role, Dave facilitates collaboration and partnerships throughout Michigan to construct fiber optic connectivity to K12 communities. Prior to joining MISEN, Dave worked in various roles in the telecom industry managing special projects from cable television high-speed networks to home satellite deployments. Dave earned his bachelors in business from Wayne State University in 1976 and his masters in telecommunications from Michigan State in 1995.
Ann-Marie Mapes is a consultant for the P-20 Office of Data and Information Management in the Educational Technology Unit at the Michigan Department of Education (MDE). She also serves as the Technology Readiness Infrastructure Grant (TRIG) project manager for the E-Rate Activity. Ann-Marie coordinates ongoing statewide educational technology initiatives.
Kurt Kiefer has served as the Assistant State Superintendent for the Division of Libraries and Technology at the Wisconsin Department of Public Instruction since September 2010. The Division oversees all information technology efforts for DPI, provides oversight for instructional technology and library media programs across Wisconsin, and serves as the state library agency. At DPI, Mr. Kiefer serves as the Wisconsin state librarian and the DPI's Chief Information Officer. Prior to joining DPI, Kurt was employed at Madison Metropolitan School District for 16 years where he served as CIO, research and program evaluation coordinator, testing and assessment director, registrar, and student information and data warehouse systems manager. Before joining Madison Schools, Kurt worked for 10 years in the private sector in several research capacities.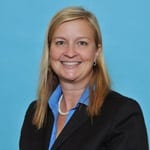 About the Host
Christine Fox is the deputy executive director for SETDA. As deputy executive director, she collaborates with the executive director in charting strategic direction, administration, planning and financial decisions involving SETDA. She also facilitates the members' professional learning opportunities including planning and implementing the content for SETDA's virtual and in-person events and newsletters. In addition, she manages many of SETDA's research and product development projects from conception to publication. She has worked as an educational consultant and curriculum developer for a national whole school reform model, ESOL coordinator and 3rd grade teacher.
Join the Essential Elements for Digital Content community to network with educators, participate in online discussions, receive invitations to upcoming edWebinars, view past edWebinars, take a quiz to receive a CE certificate for a past edWebinar, and access free resources.
The State Educational Technology Directors Association (SETDA) is a 501(c)3 not-for-profit membership association launched by state education agency leaders in 2001 to serve, support and represent their emerging interests and needs with respect to the use of technology for teaching, learning, and school operations. Our current work is guided by a strategic plan, Leading, Inspiring and Empowering: The 2013-16 SETDA Strategic Plan, adopted by the SETDA Board of Directors in October 2012 after extensive consultation with the membership. The SETDA mission is to build and increase the capacity of state and national leaders to improve education through technology policy and practice.
Listen to the Podcast
We're happy to make podcasts available for selected panel discussions and interviews.
If you would like a CE certificate for this presentation, watch the edWebinar recording and take the CE quiz.