Join live or receive a link to the recording and earn a CE certificate

Standing Desks: How and Why Educators Are Using Them
Monday, March 6, 2017 @ 4:00 pm

-

5:00 pm

EST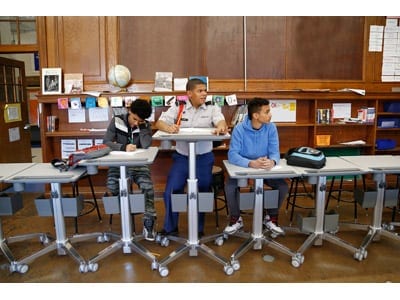 Presented by Bob Hill, Education Manager at Ergotron
Sponsored by LearnFit by Ergotron | Co-hosted by Big Deal Media
If you attended the live session, you'll be emailed a CE certificate within 24 hours of the webinar. If you view the recording and would like a CE certificate, join the Amazing Resources for Educators community and go to the Webinar Archives folder to take the CE quiz.
Using standing desks in the classroom has metabolic health benefits that translate into more engaged and on-task students, greater classroom efficiency and dynamics, and better academic performance.
In this webinar, Bob Hill, Education Manager at Ergotron, shares the following information:
Educators' stories of implementing mobile standing desks into the classroom, including observations, insights, and challenges in making the transition to a standing classroom
 Additional information, data, and resources for helping build the case for standing desks at your school
The physical classroom plays a significant role in realizing the promise of personalized learning tools and 1:1 devices. Learn about the essential role of classroom furniture in keeping apace with technology and learning styles. Hear about ways to improve students' health, behavior, and achievement through movement. This recorded presentation is designed for teachers, principals, and administrators who are looking for innovative and practical ways to help unleash the potential of their students—and themselves—in a collaborative, flexible, and personalized way.
About the Presenter
Bob Hill is the Education Manager at Ergotron. Bob is an advocate of building greater awareness of the ways students and educators can benefit from daily movement and providing the most effective furniture to accomplish that goal. Bob is passionate about spreading information to help improve sedentary lifestyles and classroom performance that will make a lasting difference.
Join the Amazing Resources for Educators community to network with educators, participate in online discussions, receive invitations to upcoming webinars, view past webinars, take a quiz to receive a CE certificate for a past webinar, and access free resources.
The Big Deal Media mission is to save every educator time and money while identifying top-quality resources for schools and classrooms. Big Deal Media is a content-rich collection of print and electronic publications that offer the information and tools K-12 educators need—all vetted through the prism of the curriculum.