Join live or receive a link to the recording and earn a CE certificate

Instructional Implementations of Interventions That Address Today's Diverse Classroom
Wednesday, November 17, 2021 @ 3:00 pm

-

4:00 pm

EST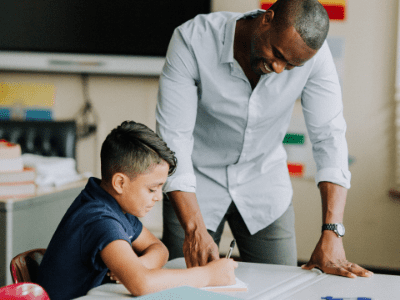 Presented by Dr. Bonnie Cochran, Director of Academic Planning and Analytics, Houghton Mifflin Harcourt; Dr. Tonya Clarke, Coordinator of K-12 Mathematics, Clayton County Public Schools (GA); Jay Hillman, Director of Educational Services, Elmira City School District (NY); and Jessica Talada, Ed.D., Literacy & Grant Coordinator (IAL Grant), Elmira City School District (NY)
Sponsored by Houghton Mifflin Harcourt
Closed captioning will be added to the recording within 2 weeks of the live presentation. Get a CE Certificate for this edWebinar Learn more
The learning loss as a result of the pandemic is no longer hypothetical. All students have been affected and educators are facing a larger number of students who need in-classroom interventions. This urgency requires all educators to find the right solutions that can address this gap knowing that:
All students have been affected in some way
Math and reading learning have seen the largest declines in scores
Students who were one to two years behind have even larger instructional gaps
Proven solutions that can be implemented in the classroom in flexible ways have to be considered for students to catch up
In this edWebinar, watch Dr. Bonnie Cochran, Dr. Tonya Clarke, Jay Hillman, and Dr. Jessica Talada to hear what other district leaders from around the country are implementing in anticipation of the wider range of learning needs teachers will be facing this school year. The presenters explore the best ways to select evidence-based solutions, designing flexible implementation models, and supporting teachers for accelerated student learning.
This recorded edWebinar is of interest to teachers and school and district leaders of the middle and high school levels.
About the Presenters
Dr. Bonnie Cochran is HMH Director of Academic Planning and Analytics. Dr. Cochran consults with school and district leaders around issues related to data, student achievement and strategic planning. She previously served the Paulding County School District in Dallas, GA, for 31 years, in roles spanning from teacher to Associate Superintendent. She served as President of the Georgia Association of Curriculum and Instructional Supervisors and on the Board of Directors for the Georgia Association of Educational Leaders.
Dr. Tonya Clarke, Coordinator of K-12 Mathematics for Clayton County Public Schools, has a prioritized focus on increasing achievement in mathematics for all students. As Founder of the I'm W.O.K.E. Project (Widening Options through Knowledge and Empowerment), Dr. Clarke and her team guide teachers through a process for developing and implementing culturally relevant and culturally sustaining mathematics instruction. These projects use highly accessible teaching practices that allow student involvement in creating mathematical models to analyze social, economic, environmental, and political issues. Dr. Clarke has over 20 years of experience teaching and leading and has served in a variety of educational and community leadership roles. As a consultant to several educational organizations and through her service with the Georgia Council of Supervisors of Mathematics and the NAACP Clayton County, Dr. Clarke continues to promote critical consciousness through mathematics instruction. Her passion for equalizing the learning environment motivates her to empower educators to make math matter for every student every day.
Jay Hillman is the director of educational services for Elmira City School District. He and his team have grown their systemic approach to literacy instruction over the last five years. Having just closed out an Innovative Approaches to Literacy grant for the prek–2 grades, they were awarded another round to complete professional learning and systems for grades 7–12. Even through school closures and the pandemic, their students showed amazing growth.
Dr. Jessica Talada serves as a literacy & intervention coordinator in the Elmira City School District in Elmira, New York. She is a 23-year veteran of public education, serving as a classroom teacher, reading specialist, instructional support teacher and data and curriculum coordinator in a wide span of grade levels. Dr. Talada is also an adjunct professor at Elmira College and Liberty University. She teaches graduate courses in literacy and education. Dr. Talada is an avid reader who believes we can change the lives of students by helping them become better readers!
Closed captioning will be added to the recording within 2 weeks of the live presentation.
Join the PD in Action community to network with educators, participate in online discussions, receive invitations to upcoming edWebinars, and view recordings of previous programs to earn CE certificates.
---
HMH® brings together on-demand professional development, students' assessment data, and relevant practice and instruction, so you can teach, learn, and grow, in class, at home, and anywhere in between. HMH® is committed to providing proven-effective solutions designed to engage, empower, and address the individual needs of students from Pre-K through Grade 12.
---