Join live or receive a link to the recording and earn a CE certificate

Cybersecurity Readiness in K-12 Schools
Wednesday, January 19, 2022 @ 5:00 pm

-

6:00 pm

EST
Presented by Freddie Cox, Chief Technology Officer, CETL, Knox County Schools (TN); Marlo Gaddis, Chief Technology Officer, Wake County Public School System (NC); and Colleen Hoy, Director, Product Management, ENA
Moderated by Christine Fox, Senior Director, External Relations, Consortium for School Networking (CoSN)
Sponsored by ENA
Hosted by Consortium for School Networking (CoSN)
Watch the Recording Listen to the PodcastRead the Article
Closed captioning will be added to the recording within 2 weeks of the live presentation. Get a CE Certificate for this edLeader Panel Learn more.
According to CoSN's 2021 EdTech Trends Survey Report, when asked to identify their top three unmet technology needs, respondents ranked cybersecurity number one by a large margin. This isn't too surprising given the vastness of the issue.
In this edLeader Panel, to help districts assess and prioritize their cybersecurity action items, experienced K-12 school technology and industry leaders share effective cybersecurity readiness, mitigation, and training strategies and recommendations. From cybersecurity insurance and network segmentation to endpoint protection and penetration testing, viewers leave with a list of action items they can implement to bolster their security efforts.
This recorded edLeader Panel is of interest to district leaders, education technology leaders, and CTOs of all grade levels.
About the Presenters
Freddie Cox is the chief technology officer of Knox County Schools. With over 13 years of education technology experience, he has made his career's focus serving students and teachers through providing reliable and accessible technology solutions.
Marlo Gaddis is the chief technology officer for the Wake County Public School System. She served three other North Carolina districts of various sizes in the past as a 21st century learning coordinator; lead teacher for technology (K-5) and media (K-12); lead teacher for math, science, social studies, and technology (K-5); district and school technology facilitator; and kindergarten and first-grade teacher. Marlo serves on K12 Education Advisory Boards for the RTM K-12 Congress and Lenovo. She is on the Board of Directors for CoSN (Consortium for School Networking) and serves on the Executive Board as Secretary. She is a founding member and board member of the North Carolina CoSN (Consortium for School Networking) chapter and a CoSN CETL (Certified Educational Technology Leader).
Colleen Hoy is the director of product management at Education Networks of America (ENA). In this role, she oversees the strategy, definition, development, and promotion of ENA's cybersecurity product portfolio and also provides leadership to ENA's overall suite of services that support the technology needs of K-12, higher education institutions, libraries, and rural healthcare providers nationwide. She was previously the director of programs and partnerships at Nashville Technology Council and a consultant for c3/consulting (now Ankura). Colleen has served on a number of nonprofit Boards of Directors, including Nashville MTA, Alignment Nashville Learning Technology Committee, and the Nashville Social Enterprise Alliance. She earned her BA from Dickinson College and her M.Ed. from Vanderbilt University.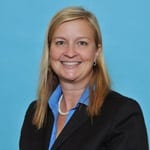 About the Moderator
Christine Fox was the senior director of external relations for CoSN where she was responsible for corporate sponsorships, partnerships, and professional advancement programs. Previously, she served as Interim Executive Director for SETDA (State Educational Technology Director's Association). Christine's background includes experience in education as an educational consultant and curriculum developer, ESOL coordinator and third-grade teacher. She has a Master of Science degree in teaching English as a second language from Florida International University and received her bachelor's degree in English literature from Florida State University. She lives in South Florida with her husband and two daughters.
Closed captioning will be added to the recording within 2 weeks of the live presentation.
Join the CTO Tech Talks community to network with educators, participate in online discussions, and receive invitations to upcoming edLeader Panels.
---
ENA delivers transformative technology solutions supported by exceptional customer care. We work with our customers to engineer high-capacity and future-ready connectivity, communication, cloud, security, and data analytics solutions to education institutions and libraries across the nation.
---
CoSN (the Consortium for School Networking) is the premier professional association for school system technology leaders. CoSN provides thought leadership resources, community, best practices and advocacy tools to help leaders succeed in the digital transformation. CoSN represents over 13 million students in school districts nationwide and continues to grow as a powerful and influential voice in K-12 education.
---
Related Events