Join live or receive a link to the recording and earn a CE certificate

Welcome 2022: Top 5 Digital Citizenship Trends to Get Ready For
Wednesday, December 8, 2021 @ 3:00 pm

-

4:00 pm

EST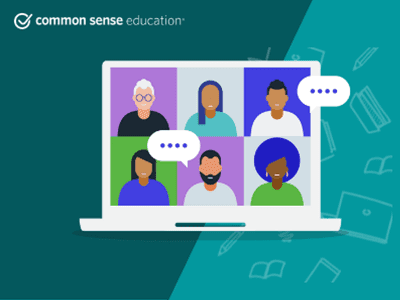 Presented by Dan Frost, Digital Learning Partner, San Francisco Unified School District (CA); Devalin Jackson, Family Technology Support Instructional Designer, San Francisco Unified School District (CA); and Jamie Nunez, Bay Area Regional Manager, Common Sense
Sponsored by Common Sense Education
Watch the Recording Listen to the Podcast
Closed captioning will be added to the recording within 2 weeks of the live presentation. Get a CE Certificate for this edWebinar Learn more.
Over the past year, teachers have been inundated with tech integration strategies. From adapting to new learning platforms, to navigating learning tools, schools have begun successfully incorporating these resources into the classroom. This emphasizes the critical nature of digital citizenship skills in the current learning environment. As more students continue to rely on these tools in the future, what digital citizenship themes should teachers expect in 2022?
In this edWebinar, Dan Frost and Devalin Jackson, administrators from San Francisco Unified School District, highlight the five digital citizenship trends that are expected to be the most prominent in 2022.
We explore:
Balancing technology adoption to meet teachers' mental well-being
Using teacher cohorts to celebrate digital citizenship skills
Ways to promote digital literacy skills that contribute to student success
Redefining engagement with families to address tech misuses
This recorded edWebinar is of interest to K-12 teachers, librarians, school and district leaders, education technology leaders, curriculum directors and coordinators, and school counselors.
About the Presenters
Dan Frost has been an educator in San Francisco Unified School District (SFUSD) for 15 years and has always been an avid implementer of technology in his classrooms. He currently works as a digital learning partner in the Department of Technology at SFUSD helping teachers, administrators, and other staff integrate technology into their practice more effectively and efficiently. He develops and delivers training sessions and professional development series, leads and facilitates initiatives around digital implementation in schools, and advises administration on how to integrate technology use more thoughtfully for their whole school. He is currently spearheading the Digital Agency and Digital Learning Facilitator initiatives for SFUSD.
Devalin Jackson is a family technology support instructional designer. She has been an educator for over 10 years, most recently as a K/1 classroom teacher and personalized learning site lead at Dr. George Washington Carver Elementary. While completing her M.A. in organization and leadership at USF this past fall, Devalin launched Speak On It: A Black Mama virtual talk space. She currently serves on the African American Early Educator Policy Council. She holds a B.A. in child development with a minor in public health from Spelman College. Devalin currently resides in the Bayview area with her two children.
Jamie Nunez serves as the regional manager for Common Sense, supporting school districts across the Western United States with digital citizenship implementation. As a former high school teacher, school administrator, and after-school director, Jamie has trained thousands of educators on student engagement in digital spaces. The common threads central to his practice are the beliefs that learning is most powerful when it's founded on a child's experience with tech, and classroom engagement is most impactful when it fosters student digital identities. When not working, Jamie can be found in the ocean teaching his seven-year-old daughter how to surf.
Closed captioning will be added to the recording within 2 weeks of the live presentation.
Join the Digital Learning & Leadership community to network with educators, participate in online discussions, receive invitations to upcoming edWebinars, and view recordings of previous programs to earn CE certificates.
---
Common Sense Education develops high-quality digital citizenship programs and digital teaching resources, providing educators and students with the digital learning tools they need to harness the power of technology for life.
---