Join live or receive a link to the recording and earn a CE certificate

Strategies for News Literacy in Today's Divided Culture
Thursday, November 11, 2021 @ 3:00 pm

-

4:00 pm

EST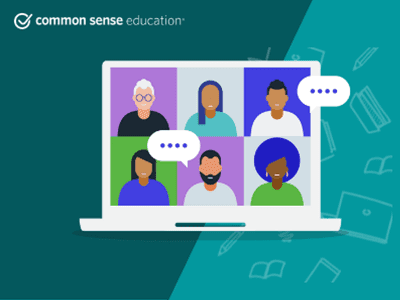 Presented by K.C. Boyd, M.A., M.Ed. & M.L.I.S., Librarian, District of Columbia Public Schools; and Sue Thotz, Senior Program Manager, Common Sense Education
Moderated by Jennifer Ehehalt, Senior Education Program Manager, Common Sense Education
Sponsored by Common Sense Education
Watch the Recording Listen to the Podcast
Closed captioning will be added to the recording within 2 weeks of the live presentation. Get a CE Certificate for this edWebinar Learn more
This edWebinar helps educators navigate the world of news and media by engaging in strong relationships with students and providing them with reliable skills and habits.
K.C. Boyd is a Washington, D.C. librarian and News Literacy Project ambassador preparing students with essential skills in the midst of Black Lives Matter, the January 6th insurrection, and vaccine misinformation. K.C. shares how she teaches students the importance of watching local and national news, and how to identify misinformation in their news feeds by using the following teaching strategies:
Active teacher listening: Teachers can better understand the student experience and moderate tough conversations
Finding student-friendly news sources: Identify trusted resources with journalistic integrity, but also meet students where they're at on social media
Engaging in civics: Highlight ways for students to be informed about their world, understand their options, and take a stand for what they believe in
K.C. demonstrates activities and share takeaway resources that allow viewers to replicate her strategies with their own students.
This recorded edWebinar is of interest to school and district leaders, teachers, and librarians of middle and high school levels.
About the Presenters
K.C. Boyd, M.A., M.Ed. & M.L.I.S. is currently a library media specialist with the District of Columbia Public Schools. She has previously worked as the lead librarian for the East St. Louis School District 189 in East St. Louis, IL, an area library coordinator for Chicago Public Schools, IL, and a district coordinator for the Mayor Daley Book Club for Middle School Students. She is a second-generation educator and holds master's degrees in library information science, media communications, and education leadership. Her favorite quotes, "Reading is the gateway skill that makes all learning possible," and, "Service to others is the rent you pay for your room here on earth," drive her commitment to serving marginalized African American children, young adults, and school communities.
Sue Thotz is the senior program manager for Common Sense Education and co-founder of Equity in Action CA. In 2011, Sue began working for Common Sense by providing support and training for educators and administrators on issues of digital culture and technology implementation. As a co-founder of Equity in Action CA, she has facilitated conferences that recognize the importance of culture and identity and strive to amplify marginalized voices in the education technology space. Prior to Common Sense, Sue was a researcher and educator. Sue holds a master's degree in public health and an undergraduate degree in zoology and chemistry.
About the Moderator
Jennifer Ehehalt is the Pittsburgh regional senior educational program manager at Common Sense Education. Jennifer has over 20 years of experience in education. She continues to partner with state-level organizations, school districts, and community organizations across the nation to help integrate Common Sense Education resources. Jennifer provides educational leadership through consultation with school districts, professional development (both in-person and virtual), conference presentations, and parent universities. Jennifer sits on the Advisory Council for Kidsburgh and is a champion for Remake Learning Days Across America. Jennifer has a B.S. in elementary education and an M.Ed. in educational leadership. Jennifer was recently named 2019 Alumni of the Year from Edinboro University. Follow Jennifer on Twitter @jehehalt.
Closed captioning will be added to the recording within 2 weeks of the live presentation.
Join the Digital Learning & Leadership community to network with educators, participate in online discussions, receive invitations to upcoming edWebinars, and view recordings of previous programs to earn CE certificates.
---
Common Sense Education develops high-quality digital citizenship programs and digital teaching resources, providing educators and students with the digital learning tools they need to harness the power of technology for life.
---