Join live or receive a link to the recording and earn a CE certificate

Classroom Practices that Support Creative Investigations in Early Mathematics
Tuesday, July 25, 2017 @ 3:00 pm

-

4:00 pm

EDT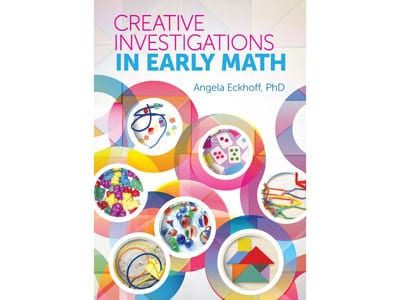 Presented by Dr. Angela Eckhoff, Author of Creative Investigations in Early Math
Sponsored by Gryphon House
If you attended the live session, you'll be emailed a CE certificate within 24 hours of the edWebinar. If you view the recording and would like a CE certificate, join the Early Learning Book Chats community and go to the edWebinar Archives folder to take the CE quiz.
This edWebinar is designed to provide you with knowledge and lesson ideas that support young children's development of mathematics understanding and inquiry-driven, creative thinking skills. Rather than teaching mathematics in a linear, fact-based fashion, explore the importance of encouraging minds-on learning experiences in the early childhood classroom. Young children build early mathematics understandings through guided and independent investigations where they are actively involved in meaningful ways. Dr. Angela Eckhoff, author of Creative Investigations in Early Math, highlights the role of the early childhood educator, acting as guide and facilitator, in the planning, implementation, and assessment of creative mathematics experiences.
The lesson ideas and classroom vignettes presented in this session incorporate opportunities to help children understand the concepts of numeracy, classification, comparing, sequencing, shape, structure, location, motion, and transformation. The lessons include critical elements of inquiry and creative thinking—open-ended tasks, activities involving social interaction, and opportunities for children's reflection and elaboration.
This presentation supports your ability to develop and implement creative mathematics experiences in the early childhood classroom by helping you to identify the links between mathematics content and inquiry-based learning in order to:
Develop cooperative mathematics lessons that will engage all children in your classroom
Recognize and appreciate children's mathematics thinking in order to build upon their current understandings
Document and evaluate children's knowledge development with rich, meaningful classroom work samples
Early childhood educators and administrators are invited to watch this recorded session to learn classroom practices that support creative investigations in early mathematics!


About the Presenter
Dr. Angela Eckhoff is an associate professor of teaching and learning and co-director of the Virginia Early Childhood Policy Center at Old Dominion University in Virginia. She is a co-editor of the Growing in STEM column for Young Children and the Full STEAM Ahead column for Teaching Young Children (National Association for the Education of Young Children). Her areas of research and expertise are centered around understanding the pedagogical practices that support and extend current conceptions of creativity and content area learning during early childhood; informal (out of school) learning environments, and early childhood policy.
Join the Early Learning Book Chats community to network with educators, participate in online discussions, receive invitations to upcoming edWebinars, view past edWebinars, take a quiz to receive a CE certificate for a past edWebinar, and access free resources.
 Gryphon House, Inc. is an award-winning publisher of early childhood resources for teachers and parents.