Join live or receive a link to the recording and earn a CE certificate

Tweens, Teens, Tech, and Mental Health: What the Research Says and What You Can Do
Wednesday, July 27, 2022 @ 3:00 pm

-

4:00 pm

EDT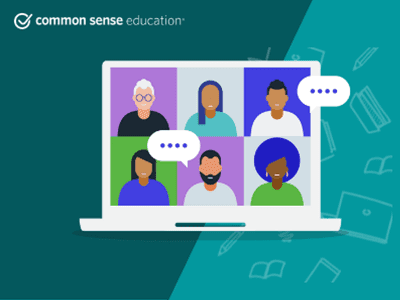 Presented by Michael Robb, Ph.D., Head of Research, Common Sense Media; and Jennifer Ehehalt, Sr. Regional Manager, Common Sense Education
Sponsored by Common Sense Education
Watch the Recording Listen to the Podcast
Learn more about viewing the live presentation and the recording, earning your CE certificate, and using our new accessibility features.
Concerns about adolescents' mental health were already high before the pandemic, with many reporting increased symptoms of depression, anxiety, and suicide risk. Worries about screen time and social media were also high, with many fearing that tech use could be contributing to mental health challenges. But how do we separate alarming news headlines from kids' real lives?
In this edWebinar, we delve into what the research says about adolescents' mental health and its associations with digital technology use. We also explore activities to support the social and emotional well-being of middle and high school students who are navigating the challenges and opportunities of the digital world. We highlight lessons that focus on self-awareness, self-management, responsible decision making, relationship skills, and social awareness. Viewers learn about identifying teens who may be most vulnerable, how tech can be used to support mental health, and strategies to deal with social media.
This recorded edWebinar is of interest to K-12 teachers and librarians.
About the Presenters
Michael Robb, Ph.D. is Head of Research at Common Sense Media, overseeing the research program, evaluation of organization impact, and program development research. He has published research on the roles of media and technology in children's lives in a variety of academic journals, and his work has been featured in press outlets such as The New York Times, The Washington Post, and NPR. Dr. Robb also has supervised community educational outreach efforts, helping parents and teachers make the most of quality children's television programming. Dr. Robb received his B.A. from Tufts University, and M.A. and Ph.D. in psychology from UC Riverside. He lives in Connecticut with his wife, two sons, and dog.
As Sr. Regional Manager, Jennifer Ehehalt designs and delivers high-quality professional development opportunities for educators across the country. She spotlights thought leaders by creating and moderating conversations on timely topics relevant to digital teaching and learning. When attending Jennifer's edWeb sessions, participants know they'll leave with concrete strategies from the field, including how to build a positive school culture, how to use straightforward templates to guide challenging conversations, and family engagement implementation ideas.
Learn more about viewing the live presentation and the recording, earning your CE certificate, and using our new accessibility features.
Join the Digital Learning & Leadership community to network with educators, participate in online discussions, receive invitations to upcoming edWebinars, and view recordings of previous programs to earn CE certificates.
---
Common Sense Education develops high-quality digital citizenship programs and digital teaching resources, providing educators and students with the digital learning tools they need to harness the power of technology for life.
---
Details
Date:

Wednesday, July 27, 2022

Time:

3:00 pm - 4:00 pm

EDT

Event Categories:

Event Tags:
Related Events