Join live or receive a link to the recording and earn a CE certificate

Young Kids and Screens: Healthy Development in the Digital Age
Wednesday, April 6, 2022 @ 3:00 pm

-

4:00 pm

EDT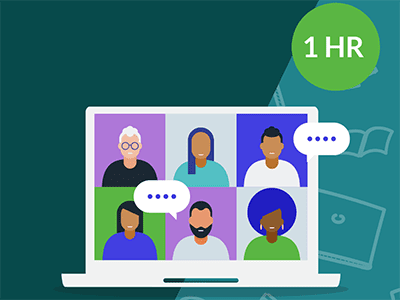 Presented by Victoria Saylor, Senior Manager, Education Partnerships and Community Engagement, Common Sense Media; and Jennifer Ehehalt, Senior Education Program Manager, Common Sense Education
Sponsored by Common Sense Education
Learn more about viewing the live presentation and the recording, earning your CE certificate, and using our new accessibility features.
View this interactive edWebinar for early childhood educators (working with kids ages 0–8). The presenters cover how to facilitate meaningful conversations with parents and caregivers about helping young kids develop essential life skills, both with and without the use of screens. The session reviews Common Sense's six turnkey workshops, available in English and Spanish, all designed to share useful strategies with parents and caregivers. You'll leave with resources that you need to have conversations and workshops on the following six topics:
Raising Healthy Kids in a Digital World
Finding Balance with Media and Tech Use at Home
Choosing High-Quality Media for Your Kids
How to Make Meaningful Family Connections Using Media and Tech
Introducing Online Safety to Young Kids
How to Use Media and Tech to Build Life Skills in Young Kids
These workshop activities are based on Common Sense's in-depth analysis of the relationships between children's use of high-quality media content and their screen time, and the development of executive functioning skills: Children, Executive Functioning, and Digital Media: A Review, 2020. The toolkit supports intermediaries who work with families, including community leaders, promoters, family educators, family engagement coordinators, and school-based family liaisons.
This recorded edWebinar is of interest to early childhood educators and education leaders.
About the Presenters
Victoria Saylor is the senior manager for family and community education at Common Sense Media. She works collaboratively with school districts, early childhood programs, and community organizations to engage families for digital citizenship, fostering a whole community approach to digital wellbeing. In her role at Common Sense Media, Vicki uses her extensive background in education to create relevant content and equitable learning opportunities for diverse audiences, advocating for all families. In her free time, Vicki enjoys cooking and traveling with her family and hiking the beautiful trails of the Arizona desert.
Jennifer Ehehalt is the Pittsburgh regional senior educational program manager at Common Sense Education. Jennifer has over 20 years of experience in education. She continues to partner with state-level organizations, school districts, and community organizations across the nation to help integrate Common Sense Education resources. Jennifer provides educational leadership through consultation with school districts, professional development (both in-person and virtual), conference presentations, and parent universities. Jennifer sits on the Advisory Council for Kidsburgh and is a champion for Remake Learning Days Across America. Jennifer has a B.S. in elementary education and an M.Ed. in educational leadership. Jennifer was recently named 2019 Alumni of the Year from Edinboro University. Follow Jennifer on Twitter @jehehalt.
Learn more about viewing the live presentation and the recording, earning your CE certificate, and using our new accessibility features.
Join the Digital Learning & Leadership community to network with educators, participate in online discussions, receive invitations to upcoming edWebinars, and view recordings of previous programs to earn CE certificates.
---
Common Sense Education develops high-quality digital citizenship programs and digital teaching resources, providing educators and students with the digital learning tools they need to harness the power of technology for life.
---
Related Events